Lettuce Harvest  is a youth created and managed aspiring non-profit working to increase urban access to healthy, socially supported and environmentally conscious food.  Founded in Vancouver, BC, (ancestral and unceded territory of the Coast Salish peoples–Sḵwx̱wú7mesh (Squamish), Stó:lō and Səl̓ílwətaʔ/Selilwitulh (Tsleil-Waututh) and xʷməθkʷəy̓əm (Musqueam) Nations) our goal is to transform the current urban garden model.
In Vancouver, there are a variety of community gardens that provide space to those looking to get their hands in the soil. Most of these gardens operate on a plot-based system, where individuals are designated their own area to garden, separate from the community at large. While many of these gardens make good use of vacant lots (and provide a tax break to land owners) this system is inherently volatile, as lot development forces garden closure. With the goal of creating more resilient and food secure communities, Lettuce Harvest is working to create a new model of community gardening – where both land and produce is shared.
The foundation of our vision is simple – connect those with land with those who want to garden; in a mutually beneficial relationship. At the micro level, we hope to provide support and mentorship throughout the gardening process, opening the door to gardeners with little to no experience.
In order to start this work, we need to get non-profit status (become a registered society) and continue to build connections within the community. We are asking for donations to a) pay for our society registration so we can apply for larger grants/start a bank account, b) up-grade our website hosting and design so we can be easily found (you can currently only access our website through the direct URL lettuceharvesttogether.com , not by googling our name) c) increase promotion and community outreach. If supporting local, sustainable food and community development is something you are passionate about, please consider donating. If you're not financially able, but want to see our work continue, please share this fundraiser with your friends, family, neighbors and coworkers! More information can be found at our website , or by emailing info@lettuceharvesttogether.com
Past work
In lead-up to applying to become a registered society, we have been working with a Rising Youth Grant, which allowed us to set up our initial website and conduct our community consultations (Fall 2019). With this preliminary work behind us, we are looking to take our organization to the next level through official registration. Every bit of support at this stage can make a huge difference in our ability to run as an organization and get us one step closer to our goal of supporting sustainable food systems.
Mindfulness meditation

Fresh roots community shared agriculture veggie box
shift happens
Grandview Woodland Community Seed Library

growers to sowers
Wed, 8 April 2020
4:00 PM – 6:30 PM PDT
Location: David Thompson Secondary School
1755 E 55th Ave
Vancouver
You don't have to travel far to give your students a farm experience. See how Fresh Roots is feeding the Vancouver community through schoolyard farms and connecting students to their food system. This workshop will include a tour of Fresh Root's David Thompson farm, hands-on farm work, and activity resources to use on the farm or in your classroom. After completing the workshop, participants will be eligible to sign up for Self-Guided Class Tours to the farm!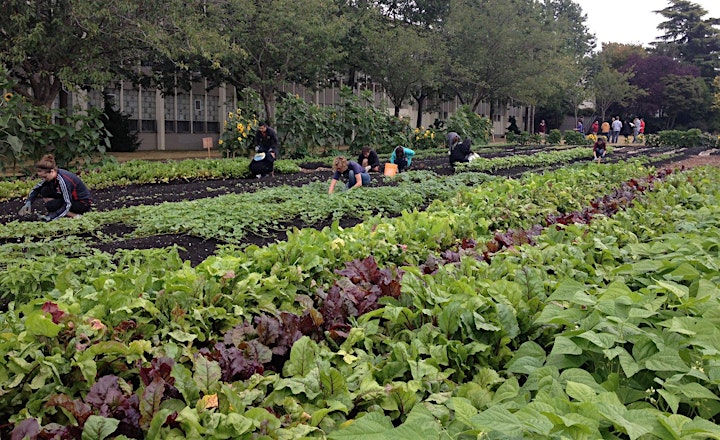 About the Host
Fresh Roots is a non-profit organization working with school communities towards Good Food For All! We believe everyone deserves access to healthy food, land, and community. We work towards this vision by cultivating engaging gardens and programs that catalyze healthy eating, ecological stewardship, and community celebration. Since 2011, we have grown the first schoolyard market gardens in Canada, fostered youth empowerment through summer and after-school programming, welcomed teachers and students develop food literacy through experiential learning, and shared fresh, schoolyard-grown produce with our communities. Learn more here.
About the Location
Located on the grounds of David Thompson Secondary in South Vancouver, this 1/2 acre urban farm features production and student growing space and an outdoor classroom. The farm hosts school year field trips and summer day camp and youth empowerment programs. Grown using organic farming techniques, our produce is sold through Veggie Boxes and at local farmer's markets. Set in a quiet residential neighborhood, the farm is a refuge for wildlife from ladybugs to coyotes. Learn more here.
About the Series
The Farm to School "Growers to Sowers" series provides teachers ("Sowers", responsible for sowing seeds of knowledge and enthusiasm for food and agriculture in their classrooms) with an opportunity to visit food producing sites across Metro Vancouver and learn directly from farmers, harvesters, and other food producers ("Growers" contributing to our regional food system). The series aims to enhance teachers' knowledge of local food production and connect teachers with local food producers, potentially catalyzing future field trips or collaborative projects between students or schools and farmers.
The Canadian Agricultural Youth Council
Are you between the ages of 18 and 30 and interested in shaping the future of the Canadian agriculture and agri-food sector?
http://www.agr.gc.ca/eng/youth-in-agriculture/the-canadian-agricultural-youth-council/?id=1579018139768
The new Canadian Agricultural Youth Council is a group of young Canadians who will provide advice on new and emerging issues that matter most to the sector, enable on-going dialogue on food-related challenges and opportunities, share information and best practices, and provide advice on the strengths and weaknesses of policies and programs affecting the agriculture and agri-food sectors.
Whether you're a young farmer taking over the family farm, a student considering a career in agriculture, or someone working in the food and beverage sector, we're looking for a diverse group of people from across the country who are passionate about sharing their ideas.
Remember – agriculture doesn't just mean on-farm activities. It also includes processing and value added transformation of agriculture and food products. As such, we are looking for broad representation from across the entire supply chain – like agriculture students, agri-food processors, and other agri-business owners.
Indigenous Land Stewardship

Applications are now being accepted for the Indigenous Land Stewardship certificate program at Native Education College.
The nine-month full-time program consists of 10 courses blending Indigenous environmental knowledge and Western ecological thinking. Graduates may use an ILS certificate as a step towards employment in fields such as land and resource management, environmental protection and monitoring, urban planning, forestry and much more. The ILS program may also be a gateway to further post-secondary studies through block transfer credit agreements with local universities.
Grandview WoodLand Food COnnection BULK BUYING
PRUNING PROJECT
The Vancouver Fruit Tree Project is proud to present our new pruning social enterprise project for the 2014 season, "Fruit Tree Pruning with ISA arborist Todd Barisky". Proceeds will go to support The Vancouver Fruit Tree Project.
The details, in brief:
A professional pruning service with competitive rates.
The better maintained your tree, the more bountiful your harvest!
Have our professional Arborist visit your fruit trees this season!
About Todd Barisky:
I have been a practicing Arborist since 2007. I received a diploma in Arboriculture Apprenticeship at Humber College in Toronto, and I am also certified with the International Society of Arboriculture (ISA).
In my view, tree pruning is a form of art; Skilled arborists are equipped both with the knowledge of optimal tree health and the imagination to craft aesthetically pleasing and durable specimen. Every tree is unique and grows in response to its environmental conditions. Mindful pruning encourages trees to develop stronger branching, yield a hardy fruit crop, and help to minimize tree defects and diseases. This is the kind of pruning I use to guide trees to grow towards their optimum form.
Many trees in the urban landscape suffer from improper pruning. When a tree has been haphazardly pruned, the tree's future health is at stake. It is possible in some cases to restore poorly pruned and damaged trees, however nothing compares to responsible and mindful tree care from the start of a tree's life. To achieve best results, it is always advisable to seek assistance from a certified professional Arborist.
For more information visit: https://vancouverfruittree.com/pruning-project/
LITTLE MOUNTAIN HEALTHY COMMUNITIES PROGRAM